Professional Unwanted Car Removal Services
Don't get frustrated over a small thing as this. You can get cash for unwanted cars in a snap of your finger and your old vehicle will be out of your property and hair for good without any delay. Well, WA Wreckers can help you in selling all your junk cars in Perth Wa, regardless of condition. Our experts specialize in purchasing any kind of unwanted vehicle including van, trucks, 4×4 and any other. So, if you are holding an unwanted, damage or old vehicle that you want to dispose of, then our team will come to you and pay top dollar right away.
With a team of our highly trained professionals, we offer cash for cars Perth and capable of offering same-day pickups as per your convenience. We will help you in getting rid of any Scrap, Damaged, Old, Broken, Salvaged or Unwanted Vehicles from your property at free cost, including free towing and paperwork as well.
How WA Wreckers Simplify Car Removal And Guarantee Same Day Cash For Unwanted Cars
You should start by calling the experts at WA Wreckers and filling them up with the details about your scrap car.
You can alternatively fill up our online "Get a Quote" form with the information about your used and unwanted cars vans.
Our car breakers/ auto wreckers will assess the information you've provided us with and come up with a very lucrative instant quote.
You can then either accept or reject the offer.
If you choose to accept the quote you will be asked to state a time that is most convenient for you.
Our team of car wreckers will come to your premises no matter where you are located in Western Australia.
They will tow away the unwanted car for absolutely free.
All your paperwork will be handled by us.
We pay cash for cars on the spot.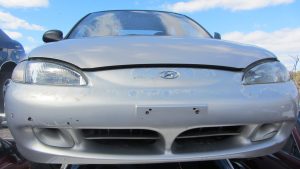 Why Our Unwanted Car Removal Services?
If you let your unwanted vehicle just rot away on your property, then it will not only lowers your property value but also greatly harm the environment as such vehicles are responsible for releasing toxins into the air. Although vehicle removal is a time-consuming process, all you need is to rely on the professional car removal services.
More, if you feel that removing the vehicle is a time-consuming project, then you might be wrong. Just rely on our car removal service and rid your property of your unwanted vehicle. Read about why we are the best solution for you:
We Remove Your Vehicle for Free
We understand how to safely remove all types of vehicles without delaying the process. Even, Our expertise will help you in protecting your surrounding property from any kind of damage.
With Us, You Earn Good Cash Offer
With us, you can remove your car without any additional charge. You can receive best possible amount depending upon the year and condition of your vehicle.
We Protect the Environment
Our team will recycle your vehicle either by selling the parts to fulfill car repair needs or by selling the cars. In this way, we protect the environment along with your property value.
We Are Operational 7 days A Week So You Don't Have To Worry About Whether Or Not You Will Get An Appointment With Our Expert Car Wrecking Team
We at WA Wreckers are a trusted name in Western Australia and car owners across the area rely upon our premier auto salvage services. You can count on us for timely and credible unwanted car removal every time. Not just this but you can also find the best deals for car parts and spares right here with us in Perth wide.
When it comes to free car removal services, there is no perfect choice than WA Wreckers. We offer faster, convenient and stress-free way to dispose of your unwanted cars. As compare to other scrap car removal companies, we are the only one who does everything professionally through our friendly staffs, they are always ready to provide you excellent service where you will be completely satisfied. Not only deal in free removal and arranging car removal Perth, but also provide top cash for scrap car collection.
To know more about how we work and deal with our valued customer and also to get a free quote on your used and unwanted car, you can call us at 0894527906 right now! Our executive will connect with you and walk you through the entire process rapidly. So call now!